Twenty-ninth meeting, 22 - 25 June, 2021
The PAGE 2021 meeting will be held at the Cankarjev Dom cultural and congress centre, Ljubljana, Slovenia.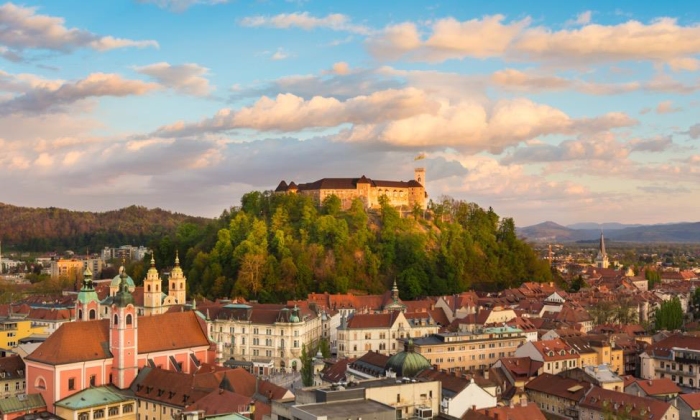 Image credit VisitLjubljana.com
Our sponsors:

Conference location and dates
After a long and careful consideration of the evolving COVID-19 pandemic, the PAGE Board has decided to postpone the PAGE2020 meeting in Ljubljana to 22 to 25 June 2021. We make this decision with profound disappointment, but we are convinced that we simply have no alternative. We have however, thanks to the efforts of our event organiser, been able to secure the same conference venue for 2021, with minimal disruption to the organisation of the event.
Registered PAGE participants have received a personal email, so if you are registered and have not received this email, please check your spam box. In short, our current preliminary assessment suggests that PAGE has succeeded in minimizing the costs due to the postponement and that, if you are currently registered for PAGE2020, your registration can remain in place for PAGE2021. No refunds can be provided if you cannot attend PAGE2021, but substitution of delegates in the same registration category will be accepted at any time. Registration will open again early next year for those who wish to attend PAGE but have not registered yet.

Abstracts submitted for the PAGE2020 meeting will not become visible, and no further program decisions will be made until the preparation of next year's meeting. Submitted abstracts can be kept until next year, revised in due course, or retracted and reused elsewhere; if you log into your PAGE profile, you can edit or delete your abstract yourself.
The PAGE meeting takes place in an informal atmosphere with vivid scientific discussion. PAGE 2021 will be held at the Cankarjev Dom. The meeting starts with a welcome reception at Ljubljana's Castle on Tuesday evening 22 June. The scientific programme will start on Wednesday morning 23 June and will end at noon on Friday 25 June. Participants are encouraged to attend all conference days and present their work in the form of an oral presentation or poster.
Preliminary programme items:
The Lewis Sheiner Student Session
The annual Lewis Sheiner Student Session was inaugurated, both to honour the memory of Lewis Sheiner and to highlight his lifetime passion for student education. Students who wish to be considered for this session should submit an extended abstract no later than 5 March 2021 (23:59 PST).

The abstract must be structured with the following subheadings: Objectives / Methods / Results / Conclusion / References.
There must be at least 6,000 but not more than 7,000 characters (including spaces) in the abstract text (excluding Title / Authors/ Affiliation and References).
The submitted work must have been performed either as part of an MSc or PhD programme and/or will ultimately form part of a PhD thesis.
Each year a rotating committee of three members, representative of the PAGE community, will judge who should receive the honour of presenting in the Lewis Sheiner Student Session.
If selected, the student will automatically receive a 300€ travel grant. A permanent list of students, with links to their presentation, will be maintained on the web site.

The Stuart Beal Methodology Session
As a tribute to Stuart Beal, there is a Stuart Beal Methodology Session. The organising committee will choose presenters from the submitted abstracts.
Tutorial on Competing risks in survival analysis. The lecture will be given by Dr Andrew Hooker.
Keynote lecture on Adaptive trial designs: opportunities and challenges. The lecture will be given by Dr Vladimir Dragalin.
PAGE Student Sponsorship
A PAGE Student Sponsorship to support travel and accommodation expenses (kindly supported by Certara, ISoP, LAP&P, Rstudio and Occams), is available to a number of students unable to obtain any other financial support. This will be judged on a case-by-case basis by a selection committee. Please see here to download a form with criteria and details on how to apply. Applications need to be submitted by the time of the abstract deadline (5 March 2021, 23:59 PST), so make sure you receive confirmation of receipt when sending your application.
Registration
Registration will re-open at this website on Monday 11th January 2021 at 09:00 (AM) Ljubljana time (CET). If you want to be kept informed, then update or create your profile.
Registration is only possible at the PAGE website.

If you have previously registered at the PAGE website, your personal details (address etc.) are still available.
If this is the first time you will attend PAGE, register first at the PAGE website before enrolling for the meeting.
Please keep our database up to date by editing your existing profile if required!
If you've forgotten your password, a reminder can be requested automatically from the website by e-mail.
If you've forgotten your password and changed your e-mail address then please contact Rik Schoemaker (rs@page-meeting.org).
Updates of personal details in the website are confirmed automatically by email. Note that if you do not receive a confirmation, you should check that your e-mail address is correctly entered in the designated field.
Registration fees and payment
Registration fees are:

675 € for participants from industry and commercial enterprises
450 € for academics (including post-doc students), non-profit participants, unemployed or retired professionals, and government employees
130 € for full time students in an MSc or PhD programme at the time of the PAGE meeting (and not otherwise employed) who do not submit and present a poster or oral communication abstract at PAGE 2020
30 € for full time students in an MSc or PhD programme at the time of the PAGE meeting (and not otherwise employed) who do submit and present a poster or oral communication abstract at PAGE 2020

Fees include coffee, tea and lunch on all days, the welcome reception on 9 June and the social event on 11 June.
Accompanying persons may attend the welcome reception and the social event for a fee of 130 €
Participant places are limited and allocated on a first come, first serve basis.
Registration fees must be paid at the PAGE website by credit card only (Visa, Maestro, MasterCard and American Express)

within 14 days

after registering at the PAGE website. Failure to meet this deadline will automatically place your registration on the waiting list.
Students wishing to qualify for the student registration fee will need to upload, at the time of registration, a scanned copy of a signed letter of support from their supervisor indicating that they will be full time students in an MSc or PhD programme at the time of the PAGE meeting, and a scan of their current student card. If this information (and an abstract if applicable) is not available at the time of the abstract deadline (

5 March 2021, 23:59 PST

), non-reduced fees will be charged.
Cancellation policy
No refunds will be given once the registration fee has been paid, not even in the extremely unlikely event that the meeting is cancelled due to force majeure. Substitution of delegates will be accepted at any time.
Software demonstrations and exhibitor spaces
Software companies, Academic Software Application Developers and Contract Research Organisations are welcome to present their products and services during PAGE. The cost for one commercial table is 1700 euros including dedicated high speed wifi connection. Software that is both non-commercial and open-source can be demonstrated without charge. Those interested in this option, please contact pagemeeting2020@afea.gr for further information and booking.
Visa requirements and letters of invitation
Slovenia entered the Schengen Agreement in 2007 and thus EU citizens do not require a visa to enter Slovenia, a passport or ID card is sufficient. Non-EU citizens are kindly advised to check the requirements at the website of the Slovenian Ministry of Foreign Affairs. It is recommended to begin the visa application procedure two months before the travel date. CD Congress Centre Ljubljana can handle the procedure of guarantee letters, requiring a one-week time frame and costing EUR 12 per document. Additional information on requesting a letter of guarantee for the visa process can be found in the document that you can download using this link.
CONFERENCE SECRETARIAT
AFEA S.A. Booking Secretariat
Professional Congress Organizer
39-41 Lykavittou Street
10672 Athens, Greece
Tel: +30 2103668853 (direct line)
Fax: +30 2103643511
Email: pagemeeting2020@afea.gr
For matters related to payment of registration fees and abstracts:
info@page-meeting.org